Cabinet finishes are a great way to personalize your kitchen. Most manufacturers offer painted, stained, glazed, antiqued and distressed cabinet finishes. How do you choose with so many options? Easy; find your style. This is where the fun begins and the finish you choose, makes your cabinet choice personalized and tailored for you.
Since there so many combination possibilities of door styles and wood finishes, we may not have the combination you have selected in our sample room. Therefore, during this process of selecting the right wood finish for your cabinets, you will want to allow time to order a sample door with the combination you have selected so you can see the finish on a sample. This is extremely important as glazes will appear differently depending on the door style you selected, so you need to make sure you are happy with your choice.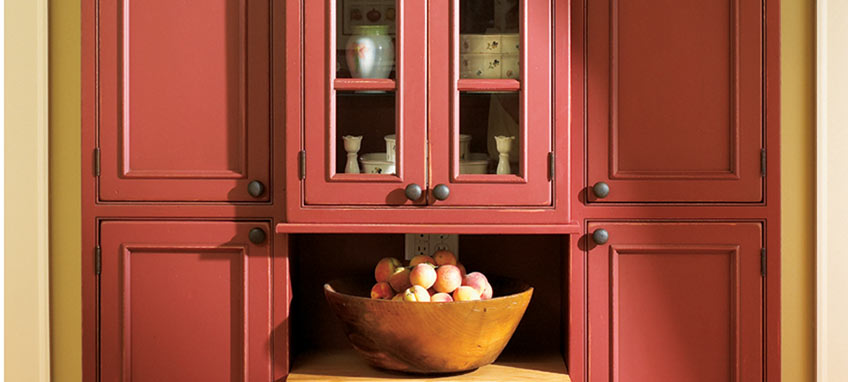 Below, we have outlined some of the more common finishes in our product lines:
Paint - Most of our product lines have standard painted finishes. When selecting a product line, you will want to inquire about painted finish options to see if they have the painted option you desire. Maple tends to be the most common choice when choosing a painted cabinet finish, however, it is your choice and preference. If considering another wood species other than maple, it is highly recommended that you view a sample of paint in another wood species before ordering. Painted products will show evidence of slight crack lines at joints in doors, frames, and at glue joints in panels due to a natural expansion and contraction of wood (especially evident with inset cabinetry). Door panels may shrink, exposing unfinished areas of wood, if proper humidification is not maintained in storage and after installation. Some of our product lines allow you to customize the color for your cabinet door. You can also combine glazes and highlights with your painted finish; the combination of options is a matter of choice and style.
Stain - Stains come in a variety of pigments, allowing the wood's natural grain to show.   A stain finish will enhance the natural characteristics of the wood allowing more of a transparent color that showcases the wood grain.  
Glaze - A glaze is a semi-transparent wash of color applied over paint to add dimension and depth. Glazes offer a heavier contrast and less consistency. Glazes appear darker in the crevices, highlighting detailing. The glazes are hand applied and wiped. This hand applied technique results in variation, in the amount of glaze material retained from piece to piece. Variation in consistency is normal and not reason for replacement.
Specialty - Antiqued patinas are hand-rubbed for added character and dimension, which allows cabinetry to appear aged or weathered. Cabinets may be distressed through a variety of techniques, which score the wood's surface to add age and a weathered rustic patina. Paint has a heavy pigment that does not show the wood's grain.