Planning

a Bathroom Remodel
To fulfill your vision successfully of updating your bathroom, we encourage you to utilize the expertise and knowledge of a bathroom designer. Bathroom planning can involve a lot of tasks and details; ease the process for yourself with the assistance of one of our bathroom designers.  At B&T Kitchens and Baths, we can aid you in your project from start to finish - helping you make decisions for your design, layout, cabinetry, and anything else needed along the way.  Most bathroom planning will be one of two things: removing and replacing or a full remodel. If you are replacing cabinetry, bathroom fixtures, etc., the existing footprint of the bathroom will remain the same; the work done will consist of replacing tubs, vanities, showers, flooring, etc. In a bath remodel, there could be walls moved, added storage, updated plumbing and electrical, etc.  Our designers will give ideas to make your bathroom more functional, while keeping your vision in mind.  They can easily provide bathroom remodeling ideas from their years of experience within the field.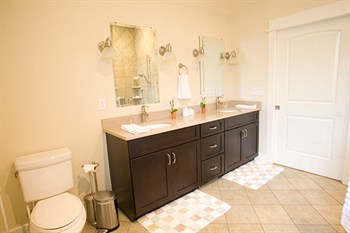 In the early stages of your bathroom planning, determine what you need to provide a better functioning and stylish bathroom.  Feel free to ask any of our designers for helpful bathroom remodeling ideas or for ideas on what to consider for a successful remodel.   For example, do you need a more functional bathroom including increased countertop space? Would you like to add a cabinet to hold towels and other bathroom necessities?  Paying special attention to the details in the beginning, then relaying your ideas to your designer can make for a smooth process in achieving your end results.  We have outlined a few questions to consider: 
 What color palette would you like to see in your new bathroom?  
 What colors would you like to avoid?
 Describe your style? 
 Would you like to keep your current fixtures (tub, shower, toilet, faucets, etc.) and flooring or replace them?
 Do you need additional lighting? Do you require task lighting or ambient lighting?
 What do you like and dislike about your current bathroom?
 Would you like to incorporate any specialty items into your bathroom?
 What is your vanity top choice? 
 What is your project timeline? When would you like it to start and to be completed?
 What is your budget for this project?