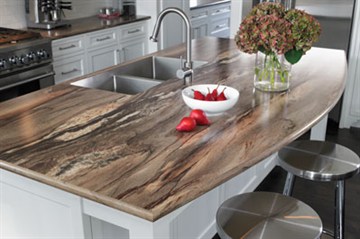 Formica Laminate: Combine and create the perfect Formica countertop for your space. Nothing ignites creativity like a breadth of great products to choose from. Formica® Laminate offers an extensive palette of well-chosen solid colors, woodgrains and patterns, plus a wide range of appealing tactile finishes. Mix and match to achieve your project goals: create a mood, reflect a personality, define a corporate identity.
Formica Premiumfx: Maximum style. Minimum fuss. Art, craft and technology converge to create the intriguing surfaces of our unique Premiumfx™ finishes. Choose from high-gloss Crystal, our shimmering three-dimensional Radiance® finish, as well as Etchings™ and Honed™, textured to enhance the earthy elegance of stone.
Formica Solid Surfacing: Smooth and shapely. The beauty of Formica® Solid Surfacing goes all the way through to look perfectly finished from any angle and offers endless design options, including edgings, accents and inlay for countertops, vanities, sinks or custom applications. Formica® Solid Surfacing harmonizes with natural or manufactured products and coordinates with all Formica® surfacing products to simplify specification and unify your design statement.
Gallery
Check out our gallery to get some ideas and inspiration!