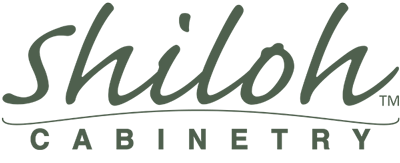 Shiloh Cabinetry produces quality cabinets with the customer in mind.  Their all wood cabinets are designed for the kitchen, bath, entertainment room, or any other area in the home where cabinets are needed.  Family owned and operated, since its beginning in 1977, Shiloh All-Wood Cabinetry will help distinguish your home and increase its appeal.   Shiloh is much more than a standard cabinet line.  Their all wood construction and thousands of  styles and finishes combinations will make your cabinetry the envy of the neighborhood. 
Shiloh offers over 300 finishes which will keep you in reach of the latest trends so you can get the color you want.   Shiloh All-Wood Cabinetry offers custom options and numerous accessories, without the custom price tag.  With Shiloh Cabinetry, amazing designs are possible. Their mix of style, finish and natural hardwoods will add lasting value to your home for years to come.
We encourage you to compare the quality construction, finish selections and options to other cabinet companies.  Visit our B&T Kitchens and Baths Design Studio in Virginia Beach to experience why Shiloh Cabinetry is "Elegance in Wood".  You can also browse available kitchen and bath styles and plan configurations by visiting http://www.shilohcabinetry.com.
Gallery
Check out our gallery to get some ideas and inspiration!