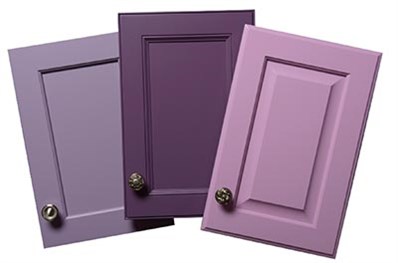 Choosing cabinetry wood is a personal decision. It is influenced by the style you are looking to achieve in your space and the budget you have selected for your project. Understanding the cabinet wood types will assist you with making an informed decision.
To help with the selection process, you may want to view different cabinet wood types in person at our Virginia Beach Showroom. This will allow you to see the door samples and review the natural characteristics of each cabinet wood type. You will want to look at the cabinet door type, the color and the natural grain features in each wood species.
The grain refers to the texture, patterns and alignment that is distinct in each cabinet wood type. From the grains that are straight, to fine or wavy grains, you will be able to find what wood species will fit best with your style and project.
Our Design Team at B&T Kitchens and Baths will assist you with choosing cabinetry wood that will fit beautifully with your overall vision for your kitchen or bath remodeling project.  Below, we have outlined some of the most common cabinet wood types, highlighting specific features that will help you with your selection.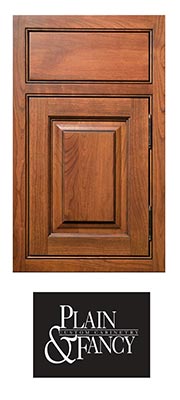 Cabinet Wood Types:

Maple – A popular wood used for cabinetry and furniture. It is a fairly straight grained wood that is hard and durable. It has a creamy white to light blonde appearance with some reddish brown tinge that may be seen in the growth rings. 
Cherry – This moderately durable wood has a rich red to reddish brown color that will darken with age and is light sensitive. It is a fine straight grained wood with a smooth texture. You'll occasionally see dark brown pith flecks throughout the wood. Cherry finishes beautifully.
Knotty Alder – As indicated by its name, it has a rugged appearance with randomly sized knots scattered throughout the wood. Knots may be solid or open. A medium density wood with colors that range from pale yellow to reddish brown.
Red Oak – A traditional wood used for cabinetry, it is very strong, hard and stiff, making it very durable. It's open grain leaves a rougher finish than tighter grained woods such as Maple. The color can range from a light cream to reddish or grayish brown. Depending upon how it is milled, different patterns will emerge from pin stripes, ray flakes to flame figures.
Hickory – Is a very hard durable wood which can have distinct color variations. The color can range from cream to dark brown. The distinct color shifts are what gives Hickory its character. Typically a straight grained wood, it may have waviness to it.
Birch – A moderately durable wood, it has straight grain and a fine uniform texture. It finishes beautifully with the color ranging from creamy white to pale brown.
Knotty Pine – Like Knotty Alder, Knotty Pine is characterized by various sized knots throughout the wood. Pine is a soft wood and is less durable than your typical hardwoods such as Oak and Maple which means it can dent easily. However, this may provide character to the wood as it ages. The color is typically light to dark straw color with darker reddish brown areas around the knots.
Mahogany – Often used for furniture, Mahogany has straight interlocking grain that finishes nicely. The color varies from light to dark reddish brown to deep rich red. The grain is fairly open, so it has a medium texture to coarse texture.
Walnut – Another hardwood often used for fine furniture. It is a hard and durable wood. Colors range from light brown to a rich chocolate. It is mostly straight grained wood with occasional wave or curl. Due to it's limited availability it may be more costly than other hardwoods such as Oak or Maple.
Clear Alder - This is a medium density hardwood with a soft, straight grain and texture is even. Clear Alders natural color is from a reddish brown to a pale yellow. You will notice small pin knots which is a natural characteristic of this hardwood. Clear Alder has a soft nature to it making is susceptible to dents more than other hardwoods.
We encourage you to visit our Virginia Beach Showroom to view our cabinet door sample room where we have hundreds of door styles and samples.  Seeing the cabinet door samples in person will help you make an informed decision based on your sense of style, application and budget.
Gallery
Check out our gallery to get some ideas and inspiration!