At B&T Kitchens and Baths, we understand that a kitchen and bathroom renovation is more than just a project for you; it is an investment in your home and improvement of the overall function and flow of your space for you and your family. For over 30 years, B&T Kitchens and Baths has served Hampton Roads and adjacent communities with outstanding kitchen remodeling and bathroom remodeling services. Our full-service kitchen remodeling and bathroom remodeling approach focuses on serving each of our clients from the initial consultation, to design, to installation. With a dedicated team to superior workmanship, our kitchen and bathroom renovation team is committed to delivering the best products and services available.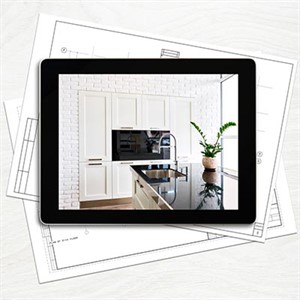 From design to conception, you can rest assured that our team of experts will communicate with you throughout the entire remodeling project. Remodeling and renovation is not an exact science. There are often unforeseen and unavoidable delays that can translate to additional costs. Our commitment is to ensure that we do not overpromise and underdeliver. It is our goal to plan your kitchen or bathroom remodel, effectively, efficiently and with your satisfaction always in mind. 
Your Kitchen ReImagined.
Planning is a critical stage in an effective kitchen or bathroom renovation. For your kitchen remodeling project, we will review and discuss all the details of your project in order to effectively plan and schedule your kitchen remodel. Our Design Team will review specific goals and timelines with you in order to manage your expectations and minimize the inconvenience of being without a functioning kitchen during the process. The same is true for a bathroom remodeling project. Since most households only have one kitchen, experiencing a bathroom remodel may be the inconvenience of using another bathroom in the house during the bathroom remodel.
You can feel secure that your kitchen and bathroom renovation will be completed in the most efficient manner possible with minimal disruption to your life. It is our goal to make you feel comfortable during your kitchen and bathroom remodel and we feel effective communication is the key. Kitchen remodeling can be a long process if it is not managed effectively. Our experienced team will be with you every step of the way.   We understand the most efficient process and our team of professional designers and expert installers will navigate through your project with amazing results.
Please schedule an appointment with one of our designers to begin you kitchen or bath transformation today! Give us a call at 757-502-8625 or visit our Virginia Beach Showroom to Imagine all the Possibilities we have for your kitchen remodeling project and for you bathroom remodeling project. We turn your dreams into realities.
You DREAM It. We DESIGN It.