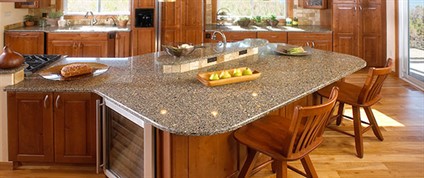 Cambria is a natural, quartz surfacing product that has a variety of uses in your home or business such as countertops, floor tile, vanities, fireplace surrounds, wet bars, showers, etc. Cambria countertops are made of a pure, natural quartz, one of the hardest and most common minerals on Earth. Some of Cambria's designs have the natural look and feel of granite, marble and other quarried stones, but features superior performance because of its strength and durability. It is nonporous and will not absorb food and liquids like granite does. And best of all, it is maintenance-free!
Your countertops go through a lot from scratches, stains and the stresses of everyday life. No other surface on the market offers such a perfect harmony of performance and beauty than Cambria countertops. Only Cambria can meet both the needs of your lifestyle and the demands of your inspiration.
Cambria's goal is simple: help you create the home of your dreams, without compromising beauty or performance. More captivating than other quartz counters, more durable than granite, Cambria countertops creates unique surfaces with the true elegance you demand of natural stone, and the hard-working performance your everyday life requires.
For more information on Cambria countertops, visit our Virginia Beach Showroom or call us at 757.502.8625.
Gallery
Check out our gallery to get some ideas and inspiration!