Our Personalized Approach
Our

Personalized Design Approach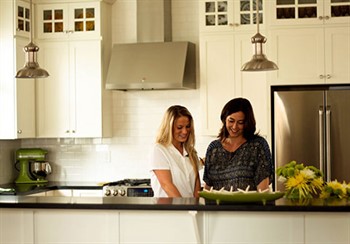 At B&T Kitchens and Baths, we understand that each client is unique and each kitchen and bath is an expression of their own individual style. With that in mind, our experienced kitchen and bathroom designers will translate your vision into a reality with personalized designs that will exceed your expectations. Our kitchen and bath designs are tailored to fit your personal style and your budget.
Our kitchen and bathroom designers know how important it is to listen to your ideas, to unveil your style and understand the functional needs for your space. No idea you bring is too crazy or too complicated. A modest budget is no hindrance to getting a finished space that speaks to you and your family. Our designers will bring details as well as the big picture. Using their expertise and knowledge of industry standards as well as latest trends, they will help you bridge the gap between all of your "wants and must-haves" and the reality of a perfect and timeless space that functions to your expectations.
Cabinets are an essential part of any successful kitchen or bathroom design. It is the goal of our kitchen and bath designers to help give you the tools to make an informed decision when selecting the ideal kitchen or bath cabinets for your project. From custom to semi-custom, our design team will transform your dream to a beautiful yet functional space for you and your family.
A great design is just the beginning. From concept to completion, our kitchen designers will guide you with their experience so you can make informed decisions. It is important that your space works with adjoining rooms so our expert designers will help address any of these concerns throughout the process. Our design team will collaborate with your builder or remodeling contractor to help lay out the space for plumbing and electric, to inspect your cabinetry when it's delivered and provide professional installation services.
You Dream It. We Design It.
Visit our Kitchen and Bath  Design Studio in Virginia Beach to meet our one of our amazing kitchen and bathroom designers to schedule a viewing of the latest in cabinetry from Crystal Cabinetry, Shiloh All-Wood Cabinetry, and more! Call our Virginia Beach Design Studio at 757.502.8625 to begin your journey.