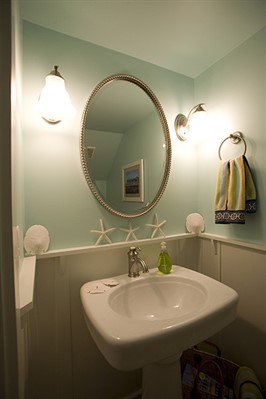 When planning your bathroom design, creating a functional and efficient layout will maximize the most from your space. As with kitchen designs, bathroom designs have translated to spa-like retreats, designed with all the comforts of a five star hotel.  Once you have a vision your new bathroom layout and the function you are trying to achieve, you will need to determine your budget. From your budget, you can begin planning the details; adding your personal touch every step of the way. And this is where the fun begins!
Focus on your style and how you would like it to translate into your bathroom design. Select the color palette you would like to see in your bath. Color is a powerful yet understated influence in our lives. Choose a color palette for your bathroom space that works with your style and will successfully unite the rooms in your home together.
Next, you need to decide on the sink. Determine the use of the bathroom that is being designed so you can focus on the sink that will work best for your space. Is this your master bath that will get daily use or a powder room that may see less traffic? With smaller bathrooms or powder rooms, you may want to consider statement pieces like a vessel or pedestal sink. A vessel sink will give a dramatic look but is not necessarily the most practical or cost efficient sink. If your remodeling project is for a master bath, you may want to consider a double vanity. A double vanity will allow better use of the master bathroom space if multiple family members use it at the same time.
Tubs and showers are a natural focal point in the bathroom. Determine if you want to make a statement with a free standing tub or are you looking to design a spa-like retreat where a whirlpool tub may be the best choice. Your overall budget will help guide you through making these decisions so keep focused on your budget as you progress through your bathroom design.
Lighting is essential in any room in your house, but is a very important consideration when making this selection for your bathroom design. The most critical area for the bathroom lighting is the mirror. This task lighting should be on both sides of the mirror at eye level and another light located above the mirror. Ambient lighting should be another consideration when considering your overall bathroom design. This lighting serves as a fill-in for natural light.
Whether you are trying to create a spa-like retreat or are looking to create a more functional space for your family, our Design Team at B&T Kitchens and Baths are here to help you design the perfect bathroom for your space.