The cabinet door style you select is a reflection of your personality and taste. Some cabinet door styles can lend themselves to a more contemporary look while others lend themselves to more of a traditional style. Transitional door styles can bridge between both contemporary and traditional. Defining your style will help you to select the right cabinet door style for your kitchen or bath.
Cabinet Door Styles

Raised Panel Doors offer an added depth to your cabinetry with a raised center panel. The raised center panel works well combined with other door style features to give a more traditional look to your cabinetry design.
Recessed Panel Doors add another dimension of visual depth with its recessed center panel. These doors can feature a simple outline of the center panel or a more elaborate profile treatment which can add another visual interest.
Slab Panel Doors are typically flat offering a streamline, contemporary look to the door. The lines are clean and crisp.
Prepped for Glass Doors - Mullion doors are door styles prepped for glass in the door. These door styles offer a customized look to your space and come in a variety of openings to add glass to your cabinet doors. 
Arch/Cathedral Style Doors – These door styles can be recessed or raised and lend a more traditional style of door style.
Square Door Styles – As with Arch/Cathedral door styles, these door profiles can be either recessed or raised. They offer a clean or contemporary look with its sleek, clean lines. These door styles are often paired with other features to give the door style a transitional look
Another door feature that can help define your style is called Cabinet Door Overlay. Overlay refers to how the cabinet drawers and doors cover the face frame.  Our product lines have the following Door Overlay options. Below are a list of Door Overlay options as described by Shiloh Cabinetry - one of our product lines we carry at B&T Kitchens and Baths.
Cabinet Door Overlays
Standard Overlay:  Doors and drawer fronts overlay face frame 1/2", leaving a 1" reveal of face frame
Full Overlay: Doors and drawer fronts overlay face frame 1 1/4", leaving a 1/4" reveal of face frame.  
Full Overlay:  Doors and drawer fronts overlay face frame 1 1/4", leaving a 1/4" reveal of face frame.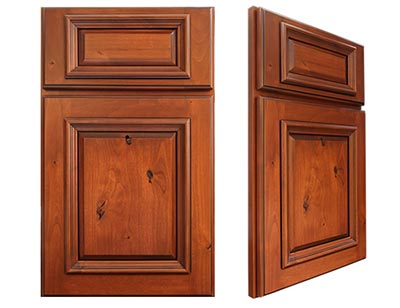 3/8" Inset:  Door and drawer fronts partially recess into face frame, with a "lip" of the doors and drawer fronts overlaying the face frame 3/8", leaving a 1 1/8" reveal of face frame. This creates a thinner profile door appearance.
Beaded Inset:  Bead located around the perimeter.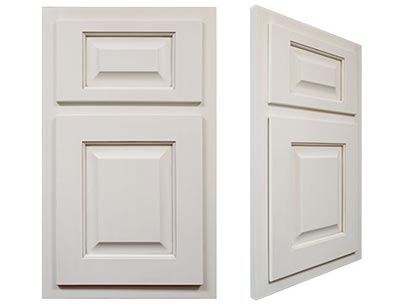 Flush Inset:   Drawers and doors have a flush appearance.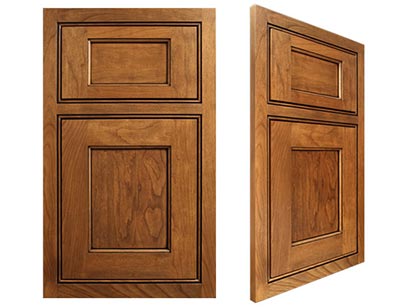 Frameless:   Features 3/4" Box Construction with doors and drawer fronts at a 5/8" overlay, leaving a 1/8" reveal for a more seamless appearance.