Kitchen

Design and Planning Services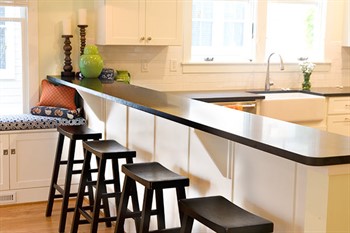 Are you planning to sell your home in the next few years or are you planning to make this your forever home? Answering this critical question can help determine which path for a Kitchen Design you should follow to make the most of this investment. If you are planning to sell your home in the next few years, you will want to select more of a mainstream kitchen design. If you are planning to stay in your home and this could be your forever home, then the options are open for you. These considerations are so important for you making wise decisions in remodeling and selecting a kitchen design that will work best for you and your family.
Budget is also a critical decision in your personalized kitchen design.  As with any major purchase (from a house to a vehicle) you know what you feel comfortable spending.   Kitchen designs are like any other major purchase. Defining your budget will determine not only the focus of the kitchen design but also the product line, finishes and features that make the most sense for you.  If our Kitchen Design Team does not know what you want to spend on your kitchen remodel, they could easily design a  $5,000  to a $150,000+ kitchen. That is why our designers must have a budget in mind for you when they begin their design process.  Whether your budget is $5,000 or $150,000+, our Design Team will design you an amazing kitchen that will work for you and your family.  Understanding and knowing your budget prior to beginning the design process will allow our Kitchen Design Team to create a kitchen design that works best for you; not only from a design perspective but from a financial perspective too.  The take-away from here is you must know your budget for your kitchen remodel which we can translate into a perfect kitchen design for you and your family!
The Kitchen "Work Triangle"  has always been an important element of a kitchen's design and functionality. The "work triangle" is defined by the National Kitchen and Bath Association as an imaginary straight line drawn from the center of the sink, to the center of the cooktop, to the center of the refrigerator and finally back to the sink. The NKBA suggests these guidelines for work triangles:
The sum of the work triangle's three sides should not exceed 26 feet, and each leg should measure between 4 and 9 feet.
The work triangle should not cut through an island or peninsula by more than 12 inches.
If the kitchen has only one sink, it should be placed between or across from the cooking surface, preparation area, or refrigerator.
No major traffic patterns should cross through the triangle.
The triangle's main goal is efficiency as it keeps all the major work stations near the cook.  Keeping this in mind, our Design Team will be able to translate your space into an efficient & functional kitchen design.
There are countless kitchen design programs online to assist you in finding your vision before you spend time working with a kitchen designer. Using these online kitchen design programs, you can play around with layouts, appliances, function, style, color and textures to see what will work for you and your kitchen remodel. Due to the availability of so many online resources,  we have found that homeowners have become more informed on what they want in their kitchen design before they step foot in our Design Studio.  Doing research online will allow you to feel comfortable with the choices you make during the kitchen design process.  With this in hand, our B&T Kitchens and Baths Design Team will then be able to translate your ideas and vision into an amazing kitchen design!
Gallery
Check out our gallery to get some ideas and inspiration!