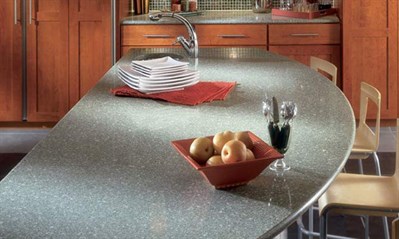 Silestone is natural quartz surface treated and created to decorate today´s kitchens and bathrooms in a range of attractive quartz colors and extraordinary quartz textures with top-quality performance. It is the only countertop with an antimicrobial protection that guarantees maximum hygiene on its surfaces.
Unique Textures
To the touch, Silestone countertops has proven to possess the dynamism needed to revolutionize texture. Launched in its original polished finish, Silestone reinvented itself, yet again, in 2006 with an exclusive new look and feel in Silestone Leather™. Silestone Leather was inspired by the matte, smooth texture of natural leather and fulfills the demand for a honed stone appearance, while always featuring the unparalleled durability that is legendary to Silestone.
Color and Depth
First introduced 20 years ago in 12 original colors, Silestone has evolved its color palette over and over leading to more than 50 color selections. Each color is carefully designed and formulated to please the eye while simultaneously matching the most current trends in fashion and style.
In addition to the myriad hues, Silestone countertops offer a wide array of options based on depth of color and dimension. This design flexibility ranges from a single-mixing color process that results in a more homogeneous look, to Cosentino's three-dimensional color process for added depth and finally to the most exclusive, innovative five-dimensional color process that provides a higher index of refraction for yet more richness of color.
Composition and Pattern
Silestone countertop colors vary not only in hue, from the most subtle neutral shades, to the rather brilliant and dynamic tones; Silestone has also reinvented its spectrum of patterns. From its solid, homogeneous patterns to its color selections filled with movement with varying size quartz gemstone particulates and other enhancement materials.
And the possibilities to add different components are virtually endless. Such as, the enhancements of glass and mirror featured in the Stellar Series, the large grains of quarried quartz in the Mountain Series and the sanded mirrors in the Cielo Series… always arriving at a new and unique quartz design that is fashion-forward.
Versatility
The look, the touch, the feel, are – the basic ingredients in a sophisticated formula of development and design. Ideally suited for kitchen countertops, Silestone is also excellent for bathroom vanity tops, table tops, floors and even shelving. On a vertical line, Silestone makes for excellent backsplash designs, shower walls and other wall cladding, giving the end-user the power to continue reinventing their spaces with Silestone Quartz.