Plain

& Fancy Custom Cabinets
B&T Kitchens and Baths is proud to offer Plain & Fancy Custom Cabinets. Discerning customers seeking a legacy in custom kitchen cabinets will admire Plain and Fancy's 40-year-old tradition in high-end, handcrafted, hand rubbed, and extraordinarily handsome cabinets.  Unparalleled workmanship, finishes and quality adds enduring elegance to any kitchen or bath remodeling project.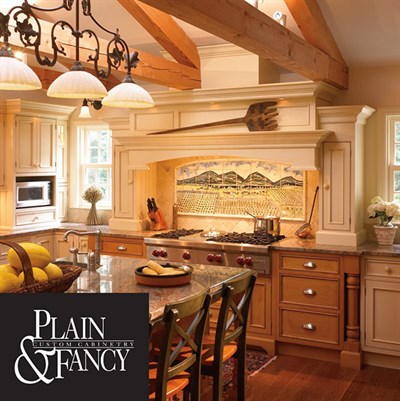 The difference can be found in every detail, from the fine millwork to the hand-rubbed finish.   Plain & Fancy® Custom Cabinetry gives your home the style and functionality you crave. Whether you're dreaming of a new setting for your culinary skills or planning an elegant new space for entertaining, they have a design that's perfect for your room and your lifestyle. We invite you to explore what makes the cabinetry different - then we urge you to compare. We're confident you'll agree that Plain & Fancy Custom Cabinetry delivers the very best value in luxury cabinetry.  Plain & Fancy's Pennsylvania Dutch heritage is represented in each piece creating an heirloom quality cabinet that is as beautiful as it is functional. To this day, all Plain and Fancy cabinets are made in America.
To learn more about Plain & Fancy Cabinetry for your kitchen or bath remodeling solution, contact our B&T Kitchens and Baths Design Team or feel free to visit either our Virginia Beach or Norfolk Kitchen and Bath Design Studios. You can also browse available kitchen and bath styles and plan configurations by visiting www.PlainFancy.com.
Gallery
Check out our gallery to get some ideas and inspiration!