Kitchen Remodeling Services
Kitchen

Remodel Virginia Beach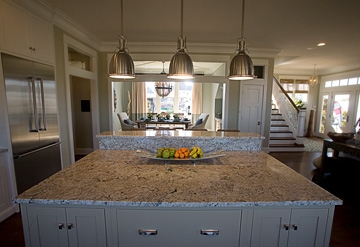 At B&T Kitchens and Baths, we specialize in custom kitchen design and remodeling services. We work closely with homeowners, contractors, architects, and interior designers to create the space you've always envisioned; a kitchen that is both stunning and functional.
Our experienced kitchen designers can help turn what can sometimes be an overwhelming process into a pleasant and exciting experience. Our approach begins with an initial consultation at our design studio where we'll meet to discuss your needs, ideas, wish list, and expectations for your dream kitchen. We'll listen to understand your preferred kitchen layouts and styles, functional and organizational needs, entertaining and family considerations, as well as budget and timeline expectations for your renovation project. We will then interpret those ideas into a solution that is creative, functional, and beautiful.
Throughout the design phase of your kitchen remodel, we work closely with you and ensure that you're involved in each step of the design process so that we can develop an ideal layout for your space. Your new kitchen should be a reflection of you and what's important to you and your family. In order for us to meet your overall vision for your new space, we make it a priority to understand how you and your family use your kitchen; whether you entertain guests, if you love to cook, or if you're simply looking to update an outdated kitchen.
Every Detail Matters In Your Dream Kitchen Remodel
We want you to be truly delighted with your choices, so we'll assist you in choosing your cabinetry styles and finishes as well as options for countertops, lighting, sinks, faucets, and other fixtures in order to bring your vision together that you'll love for years to come.
Our Vast Selection Of Kitchen Renovation Products
At B&T Kitchens and Baths, we understand that every detail counts when it comes to creating your new custom kitchen, which is why we proudly offer a wide range of products. We offer beautifully-crafted cabinetry, stunning quartz and granite countertops, and a full range of hardware solutions. Selecting the right door style, countertops and hardware are important pieces in the design solution that will ultimately complement your style and vision.
Each of our quality cabinet lines offer our customers a wide range of solutions for all budgets and lifestyles. It is important for us to provide our customers with design and product choices that are current yet timeless. Whether you are looking for modern, transitional, or traditional, our professional team of creative and talented designers can help you achieve your dreams!
Gallery
Check out our gallery to get some ideas and inspiration!