Designing

a Custom Kitchen or Bath
The Design Experience begins and ends with YOU in mind.  Designing your kitchen or bath begins with determining how you and your family plan to use the space. Our design process includes finding the layout and features that fit your lifestyle. We encourage our clients to select kitchen and bath ideas from every resource possible, including Houzz, Pinterest, online images, showrooms, books, magazines and blogs.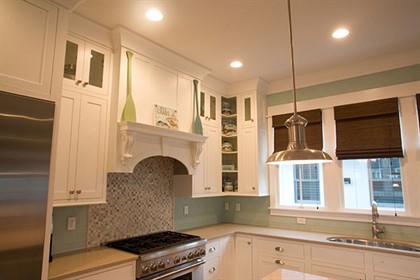 Should your project be a kitchen remodel, consider your priorities for your kitchen: how many people will be cooking and gathering in the kitchen and how they'll need to move around in it. Do you need an addition? Or can you work with your existing kitchen footprint? If is it a bathroom remodel, consider your priorities and the features you need to help maximize your space and function for your household.

As you embark on this design journey, you should begin saving images for your kitchen or bath remodeling project with features that suit your style. Our Design Team will review this with you to help achieve the vision, beauty and function you need for your space.  Bring your kitchen and bathroom ideas to your initial consultation with our kitchen and bath designers.
Initial Consultation: At this meeting we will discuss your project feasibility, design concerns, ideas and budgeting. Our first step is listening to your needs and expectations for your new project. We will then interpret those ideas into a solution that is creative, functional and visually pleasing. Kitchen and bathroom layouts, cabinet style, basic design elements such as countertops, appliances, flooring, sinks and faucets, your budget & timeline will be discussed. Our initial consultations are by appointment only in our showroom. This design appointment is unique to you.   Please review our entire information packet and complete the Kitchen and Bath Guide prior to this appointment.
Study & Preliminary Design: Once we have completed our initial consultation, we will schedule a meeting in your home to review your space and style. This will also allow us to review and measure your project. At this time, a representative from B&T Kitchens and Baths will conduct a basic study of your project, including measurements, initial drawings and pictures of your current space.
Selections & Final Design: The next step will be the selection process. You will return to our showroom to make cabinetry and product selections which will allow us to prepare a preliminary estimate of costs and refine any changes in the design. Before work begins on your kitchen or bathroom you will approve a final design and all selections. Your kitchen and bath designer will present a contract to be signed. The contract specifies pricing, payment terms, products and services.
We will review your project drawings including floor plans and elevations that clearly represent your project. These designs are the property of B&T Kitchens and Baths until your contract is accepted and payment is processed. If changes are required from the initial project drawing, a redesign fee will be charged however, it will be applied to your contract price once signed. Our kitchen design process is one that requires our design team to spend countless hours reviewing, interpreting and designing your new kitchen to meet your expectations as inspired by our initial meeting with you. Therefore we encourage all our customers to focus on what is important in order that we may capture your ideas and create your kitchen exactly how you envisioned it. If changes are requested once the project has started, you will be asked to sign a change order form and provide payment in full for any changes you request.
Construction: Once the kitchen or bath cabinets are ordered, the lead time is approximately 3-12 weeks (depending on the manufacturer).   During the construction phase, our project manager oversees formal and informal communications to ensure your questions are answered and your project remains on schedule and on budget. Our experienced staff will personally work with  the project contractors every step of the way.
Post-construction follow-up: Upon the completion of your project, a walk-through is done. A punch list is created at the end of the project to ensure that you are satisfied and everything is complete. We stand behind our quality workmanship on every project. We will follow-up with a client satisfaction survey after the work is complete.