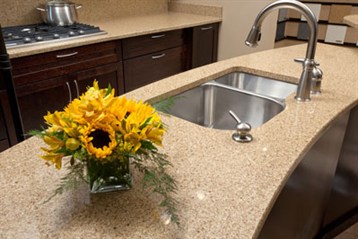 Engineered with pure quartz crystals, quartz countertop from DuPont™ Zodiaq® brings the best of both worlds – nature and science — to your kitchen, bath and throughout your home.  Explore the drama and beauty of nature without sacrificing the performance of science.  DuPont™ Zodiaq® quartz countertops are incredibly durable and resistant to heat and scratches.
DuPont™ Zodiaq® quartz countertops are composed mostly of quartz, giving it exceptional toughness and a hardness of 7 on a scale of 10 (only diamonds rate a 10!).  The smooth, nonporous surface of DuPont™ Zodiaq® resists even the toughest spills and will retain its luster for many years without the need for sealants or waxes.  Routine cleaning may be done with a damp cloth or paper towel.  However, tougher cleaning may require a small amount of non-bleach, non-abrasive cleanser.
Zodiaq® quartz countertops can be cut and fit to meet exacting requirements, allowing you a wide range of design options.  With more than one hundred colors and styles, you are certain to find a combination that will meet your countertop solution.
DuPont™ Zodiaq® quartz countertops come with a ten-year limited warranty from DuPont.
More information on Zodiaq countertops
Gallery
Check out our gallery to get some ideas and inspiration!