Bathroom

Design and Planning in Virginia Beach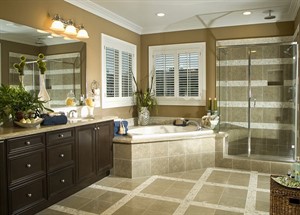 Like kitchens, the bathroom has evolved from a small functional space to a large spa like space packed with features and amenities to pamper us. Surprisingly, a bathroom renovation can be one of the most expensive rooms to remodel in a home. 
When planning your new custom bathroom, creating a functional and efficient layout will maximize the most from your space. Even the most luxurious bathroom renovation is faced with design, plumbing and lighting challenges. Focus on getting the most efficient layout, then the details will begin to fall into place.
As with planning a kitchen renovation, you will need to narrow down your budget for your bathroom renovation. Determine your budget and begin planning the design.
From the layout, move to the sink. Is this new custom bathroom remodel for a main bathroom, guest bathroom or a half-bath? Consider the function and the traffic in the bathroom.  If less traffic, then you may want to consider a statement piece like a vessel sink.  If it is a master bath, you may want to consider a double vanity.
Now, design your lighting plan for your new custom bathroom. The most critical lighting is around the mirror as most often this is used for task lighting. Lighting should be at eye level on each side of the mirror and then one above the mirror. Ambient lighting is also needed so consider this in your bathroom design.
Ultimately, your bathroom renovation will increase the overall value of your home. Focus on your budget, design an efficient layout and enjoy planning your new bathroom retreat!
Gallery
Check out our gallery to get some ideas and inspiration!