Does

Your Kitchen Have An Attitude?
February 06, 2017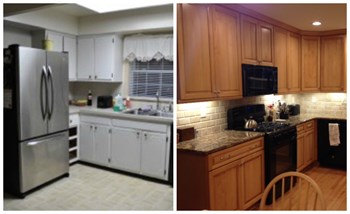 My kitchen clearly had a bad attitude at my old residence.
I purchased this home when construction had already begun. Unfortunately, at the time, I did not pay attention to all the finishes including the kitchen design as my focus was on getting this home built so I could move in. Additionally, I did not understand that builder grade cabinets were entry level cabinets. I also did not realize that in time, my kitchen would develop a bad attitude. Or, was it me who developed the bad attitude about my kitchen? I slowly edged away from going in the kitchen to cook a meal and instead, leaned on my friend the microwave to heat up a meal quickly and get the heck out! Years later, right before we decided to move, we knew the kitchen with a bad attitude would scare away potential homebuyers. So, we remodeled the kitchen. What a world of difference it made and when the house went on the market, it was snatched up quickly. I began to feel guilty that I was leaving this newly found beautiful, functional kitchen. It was then that I realized how often so many of us wait or put off a kitchen remodel until we almost have no choice; as in this case just to sell it. If I were to do it all over again, I would have remodeled the kitchen many years before we decided to sell it so I could enjoy this reimagined kitchen and all of its functionality.
My advice to anyone who has a kitchen with an attitude, "don't wait to remodel your kitchen just to sell your house." "Do it now and enjoy it now." You will thank yourself.
Take a look at some of these stunning before and after pics. Kitchen images compliments of B&T Designer Jennifer Wooldridge.