Are

Thermofoil cabinets right for you?
February 24, 2017
by Erin Flavin | Designer - B&T Kitchens and Baths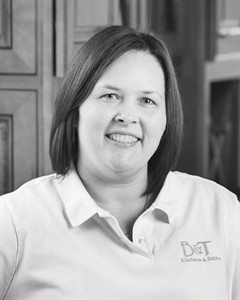 So what are Thermofoil cabinets?  Thermofoil cabinets are made using a flexible vinyl material that is applied by heating the vinyl and molding it over medium-density fiberboard (MDF) or engineered wood.  The result is a cabinet door with a smooth surface that resists chipping better than painted surfaces.  Whether or not Thermofoil cabinets are right for your home depends on your needs, because while they have several appealing features, they also have some drawbacks.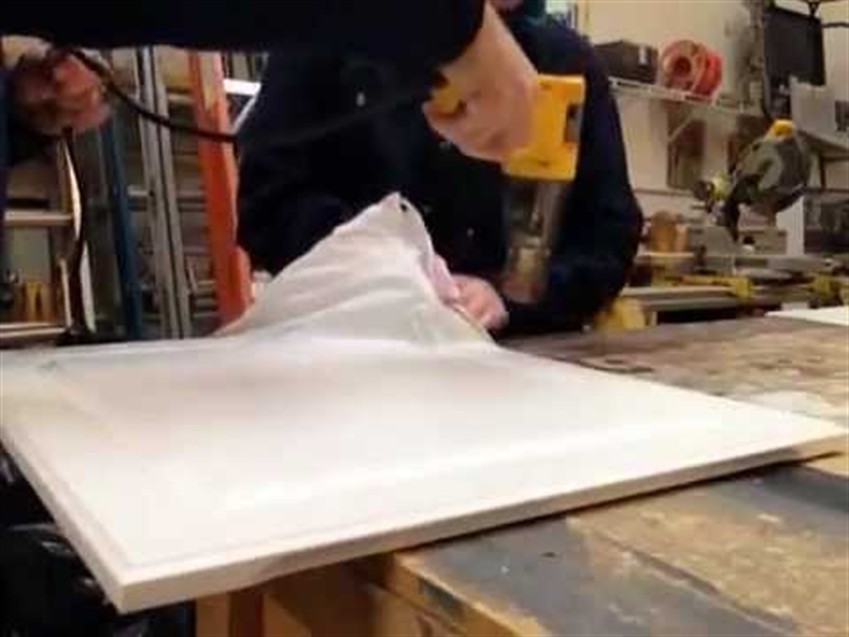 Thermofoil Process
Easy Care and Low Maintenance.
Homeowners may be attracted to Thermofoil cabinets because of their easy care and maintenance.  The laminate surface resists stains and is easily wiped down.  Stubborn residues such as grease can be removed with a mild all-purpose cleaner.  Thermofoil does not require protective coatings, as wood cabinets do, which makes them lower in maintenance.  They will not chip or crack due to high humidity either, as long as the laminate coating is not damaged.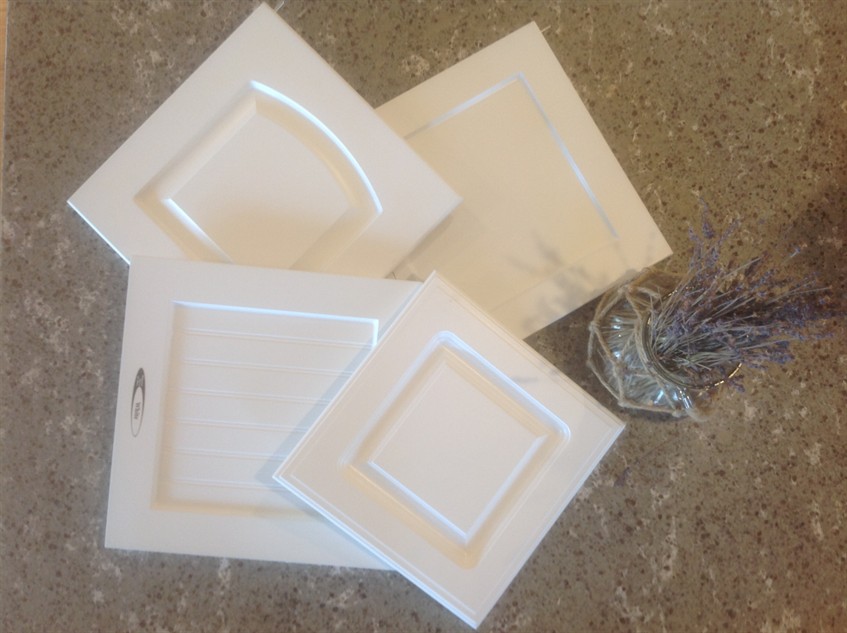 Design and Color Versatility.
A significant advantage of choosing Thermofoil cabinets is their wide range of color and pattern options.  The vinyl surface of these cabinets may be molded into a variety of patterns and shapes, which allow you the choice of a basic flat cabinet or one with an embellished design, and you have the option of matte or glossy finishes.  Thermofoil cabinets are offered in a variety of cabinet lines, with a range of colors available. 
Heat Resistance.
While many homeowners install Thermofoil cabinets in their kitchen, they have poor heat resistance.  This suggests if they are installed too close to a heat source, such as your oven, the laminate may pull away from the veneer core.  However, this problem may be overcome by installing heat shields, which are essentially metal strips, between the cabinets and the heat source.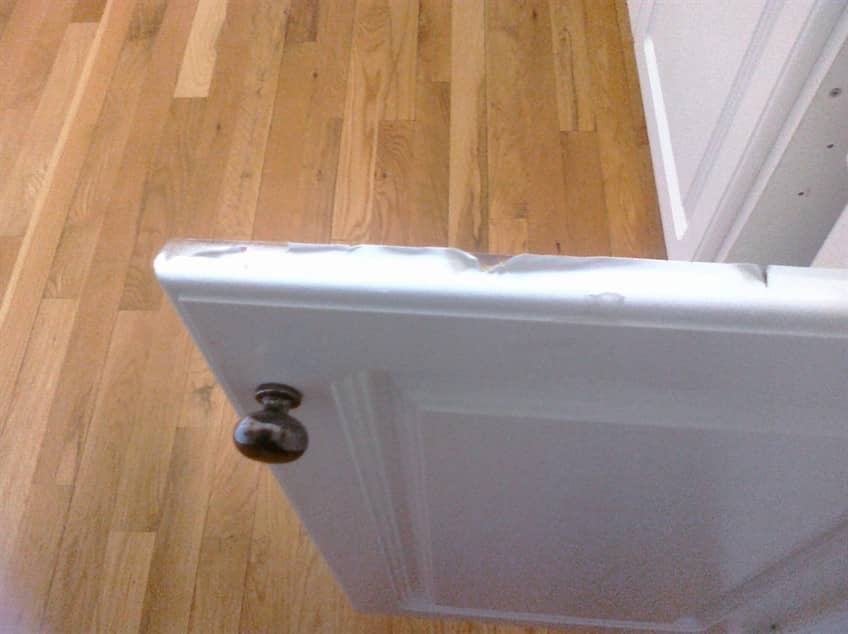 Damaged Thermofoil Door
Moisture Resistance, YES!  Waterproof, Not Entirely.
The appeal for Thermofoil cabinets is their superior moisture resistance.  However, while they do resist moisture better than other materials, such as plain MDF and wood, they are not entirely waterproof.  If the laminate coating is damaged, and water seeps into the core, the cabinet can be irrevocably damaged; the vinyl coating will begin to peel, and the MDF will start to swell.

Kraftmaid - Thermofoil
Cost, Installation, and Repair
Because Thermofoil cabinets contain laminate over an MDF or engineered wood core, they tend to be heavier than traditional wood cabinets.  This makes them harder to install.  Concerning cost, Thermofoil cabinets may run 15% - 25% less depending on the product line selected.  Wood cabinets are easily refinished to remove cracks, dents, and scratches, but once the vinyl layer of Thermofoil cabinet is damaged, it cannot be repaired.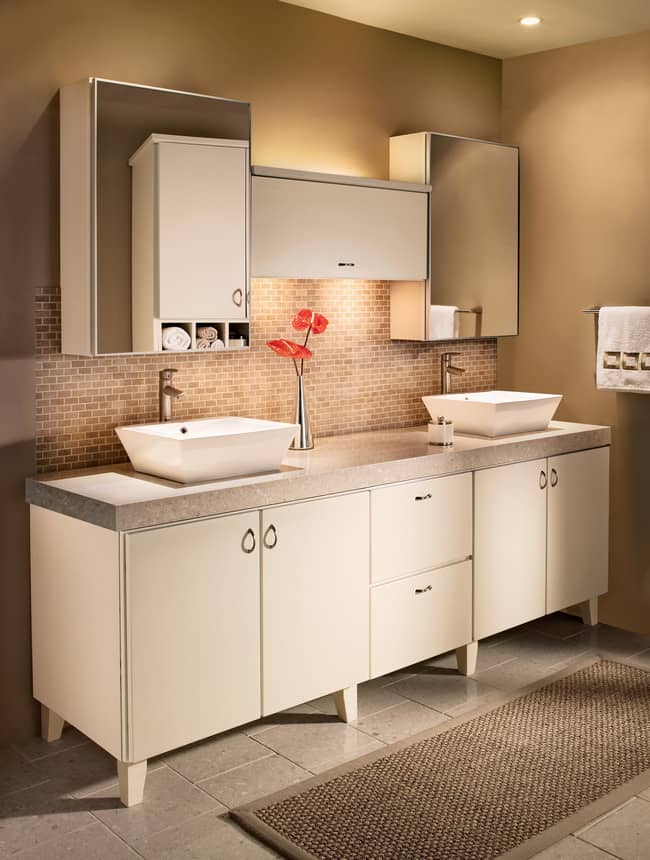 Kraftmaid - Thermofoil
Thermofoil cabinets are not for everyone. You may find two schools of thought among kitchen designers concerning Thermofoil; those that think it is an inferior product compared to wood cabinetry and those that feel it is a product that has come a long way but has not yet received the mass appeal here in the US.   As with any decision, it is important to weigh the pros and cons to determine what works bests with your lifestyle, budget, and maintenance of the cabinets.