Add

Unique Elements to Your Kitchen Design
February 02, 2017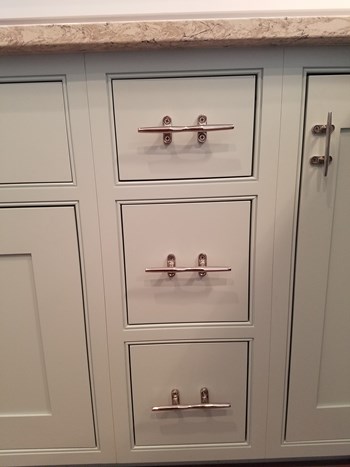 Do not be afraid to add unique elements to your Kitchen Design. Scour the internet for images and details that may add that signature piece to your design. Discuss your ideas with your Kitchen Designer to determine if incorporating this vision makes sense for the overall design and to determine the cost associated with adding this signature piece.
One homeowner challenged us with the use of dock cleats for hardware for a coastal inspired kitchen they wanted to be designed for a Carriage House located on the Chesapeake Bay. This particular homeowner found such hardware on a coastal kitchen when searching for ideas on Pinterest. The challenge was finding the appropriate size dock cleats to use for this kitchen design. After several attempts to locate the dock cleats online and visiting some local Marinas, she found the perfect size to compliment the doors. Committing to this type of hardware means that you may not be able to change it out to something different without another major cost to consider because of the holes that needed to be drilled in the cabinetry to install each cleat. The homeowner committed to the design and the hardware. It was a total home-run and certainly gave her the signature piece she was trying to achieve.
When working with your Kitchen or Bath Designer, it is important that your vision is the center of this process. Our Design Team at B&T Kitchens and Baths do love a challenge so ask questions and share your ideas as our goal is to give you the kitchen design that will add function, value and that signature that makes it  exclusively yours.
Gallery
Check out our gallery to get some ideas and inspiration!