Top

Knobs | Creative. Artistic. Functional. Beautiful.
March 28, 2014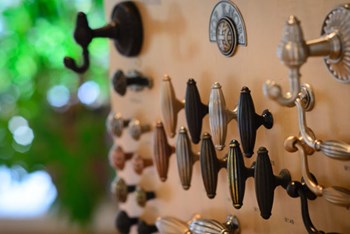 Are you considering replacing your kitchen or bath hardware? With over 3,000 kitchen, bath and closet knobs and drawer pulls to choose from, you definitely can't go wrong with Top Knobs hardware. Not only does Top Knobs offer thousands of knobs and put in aesthetically pleasing designs, their knobs are guaranteed to last decades.
Top Knobs offers excellent products with top of the line quality. Each knob is crafted only from the finest, high end metals and hand finished, polished and inspected. Top Knobs also offers a lifetime guarantee against defects on their products. Top Knobs has made a commitment to "going green." The majority of their knob and pulls are made from metals which are recyclable. Top Knobs prints all of their brochures, books and literature on certified recycled paper.
You may think this superior product must come with a high-end price tag.  Good news, it doesn't! Top Knobs' products are comparable in price to the knobs and pulls you will find at local do it yourself centers. And they ship out of their warehouse within 24 hours. Not sure you like the idea of "picking out of a catalog," well no worries there, Top Knobs will ship a free sample to you!
Visit B&T Kitchens and Baths today at our Virginia Beach Showroom to discover our large selection of Top Knobs' products. B&T Kitchens and Baths serves all areas within and surrounding Hampton Roads and the Peninsula.