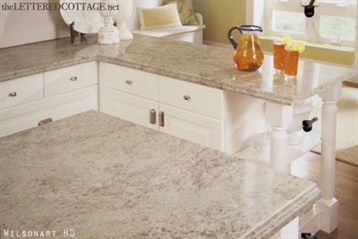 For more than 50 years, Wilsonart has been creating beautiful kitchens and is a world-leading producer of decorative surfacing products. No matter what your budget or style, whether you are a design professional or a consumer, Wilsonart countertops will have a product to fit your needs. 
Wilsonart Laminate: Laminate is fun, it's affordable, it's easy to live with, and it looks terrific. And no matter what your budget or style, you will find a product to fit your needs in the Wilsonart Laminate portfolio. Laminate countertops are the perfect easy-care solution. Wilsonart countertops provide extreme resistance to everything from butter, tomato sauce, coffee, grape juice and more. Laminate offers the widest array of designs of any surfacing material. Wilsonart Decorative Edges give you even more ways to dress up your countertop. An integrated Wilsonart Sink complements your new countertop perfectly with a look of luxury.
Wilsonart HD: Start with the detail, the appearance of depth and texture, the flow of color, the play of light and shadow. Twenty-first century science and design have come together to create totally new laminate surfaces that challenge easy description or comparison. HD High Definition Laminate encompasses deep, luxurious looks for both visual & tactile feel.Founded on technologies first implemented for laminate flooring, Wilsonart HD delivers  countertop solutions that are three times the wear-resistance of the industry standard. Warm to the touch, with designs and textures unavailable in other luxury materials, Wilsonart HD is a unique alternative. Wilsonart HD also offers surprising value for a luxury based countertop material.
Wilsonart Solid Surface: Wilsonart Solid Surface countertops are half-inch thick, 100% acrylic based surface products that are solid, nonporous and do not require sealing. They're naturally resistant to heat, mold, mildew and most stains, even tough stains are easily buffed away. They're renewable and repairable — scratches are easily repaired. Featuring inconspicuous, waterproof seams ideal for custom designs like drain boards or coordinating seamlessly with Wilsonart sinks and bowls, Wilsonart Solid Surface is approved by the FDA for food contact and preparation areas. All backed by Wilsonart Residential 10-year installed, transferable warranty.
For more information, please visit Wilsonart's website.

Gallery
Check out our gallery to get some ideas and inspiration!