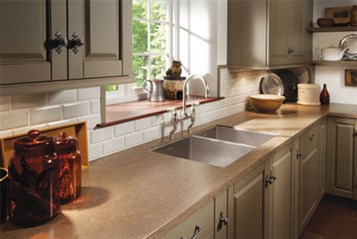 DuPont™ Corian® solid surface is easy to clean and is NSF/ANSI 51 certified for food contact. Because Corian® is nonporous, stains do not penetrate the surface. With proper cleaning, Corian® counrtertops also resists the growth of mold, mildew and bacteria which makes this product ideal for use in the kitchen.
Advantages:
Extremely durable.
Nonporous and stain-resistant.
Available in many colors, patterns and finishes, including the look of natural stone.
Seams (if any) are inconspicuous.
Color is solid throughout.
Shallow cuts or scratches can be removed with an abrasive pad.

Every Corian® solid surface countertop from DuPont is covered by a limited-warranty for product and installation.  For more information on Corian countertops, visit their website.Corian® products such as sinks and backsplashes can be perfectly integrated to create the illusion of a single, solid surface. With a cove-backsplash there are no cracks to collect dirt and moisture. DuPont invented solid surfaces and have worked to continually improve our portfolio. As a result, Corian® has consistently attained a customer satisfaction rating of 96%.
Gallery
Check out our gallery to get some ideas and inspiration!