For more than 100 years, Marsh Furniture Company continues to be committed to delivering the highest level of customer service and quality products.
B&T Kitchens and Baths provides the full range of kitchen and bath cabinetry including one product line that has a long history with making kitchen and bath cabinets -  Marsh Furniture Company.  Marsh Kitchen Cabinets is their framed line and High Point Cabinetry is their frameless line.  Marsh Furniture Cabinets offers over 100 styles of cabinets in Cherry, Maple, Oak, and Birch, as well as Thermofoil and painted finishes.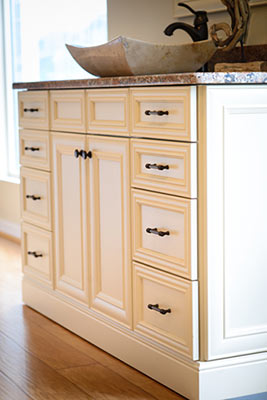 For more than 100 years, Marsh Furniture Company & Cabinets continues to be committed to delivering the highest level of customer service and quality products.  Because of these values, Marsh Furniture Company remains one of the largest independently operated and family owned stock kitchen cabinet manufacturers in the United States.  Founded in 1906 by Julius Everett Marsh, Sr., Marsh Furniture Company has
been crafting fine cabinetry for a century. From the start, Marsh was all about innovation. While other furniture companies were building for the bedroom, dining room or den, Marsh built furniture for the kitchen. Marketed as "Kitchen Safes" and sold through retail stores, these ornate free-standing cupboards were innovative in another way. They were among the first pieces of furniture to be shipped "Ready To Assemble" or "Knocked-Down" in the jargon of the day. The only constant in Marsh's first decade was change. Features like tilt-out flour bins with built-in sifters, sliding tambour doors and enameled metal work surfaces (the precursor to today's countertops) were added.  Marsh cupboards were also added as they began to define the modern kitchen cabinet.
Seizing Opportunities In 1914 Marsh introduced the radical concept of a portable kitchen cabinet by putting casters on their cupboards. When J.E. Marsh, Sr. retired in the late 1920's, he passed more than the company presidency to his eldest son. He also passed on the family inclination for innovation. This trait would prove pivotal as J.E. Marsh, Jr. led the company through the Great Depression. As consumers lost buying power and sales of any on item shrunk, J.E. Marsh, Jr. supplemented production by broadening his customer base. To achieve this, iceboxes, butcher tables, and even pinball machines were added to the standard product offering. Growth Year After the depression this talent for recognizing and seizing opportunity led to yet another Marsh pioneering effort. Pre-fabricated cabinets with separate wall and base units were developed, sold directly to contractors, and then built into new homes. The phenomenal success of this concept established Marsh as a major identity in the new construction industry and increased the opportunity for new product development. Natural wood finishes were introduced in the early 1940's and sales of Marsh cabinets grew even faster.
In order to keep up with the demand, Marsh acquired a sawmill in Pamplico, South Carolina in 1944. The mill was expanded, revamped and renamed Marsh Lumber Company. Through constant updating with new equipment and management tools, it continues to be a major source for wood used in Marsh cabinets today.
Visit our Contractor Showroom in Norfolk or our Shore Drive Design Studio in Virginia Beach to view the latest in kitchen cabinets from Marsh Furniture Company. Extended kitchen cabinet information and configurations are available at www.marshfurniture.com.